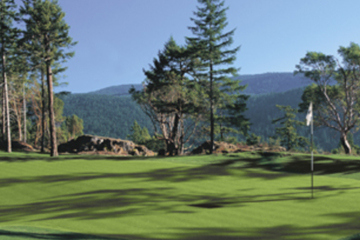 Jack Nicklaus says there are 18 signature holes at Bear Mountain. Sounds like a cliché - until you play it. (Courtesy golfvancouverisland.ca)
Vancouver Island Golf Trail: Great golf, sweet dreams and more
Boasting some of the best golf courses in British Columbia - Westin Bear Mountain Victoria Golf Resort & Spa, Olympic View, Arbutus Ridge, Cowichan, Duncan Meadows, Fairwinds G&CC, Morningstar, Pheasant Glen, Crown Isle and Storey Creek - nothing beats the Vancouver Island Golf Trail for a Canadian golf vacation adventure.
Those of us with golf in our veins have many things in common. We love the outdoors. We love the camaraderie that the game makes possible. And, perhaps more than anything, we love to dream. We dream about that syrupy-smooth technique that has long evaded us. We dream about a 350-yard drive (I'd say 300, but those days are over). And, perhaps our favourite, we dream about the ultimate golf adventure. In fact, this quest for adventure, a new and better golf experience, is a passion, a duty, that we take quite seriously. Those who declare a love for the game, for golfing adventure, should fix their eyes - and their golfing dreams - on the Vancouver Island Golf Trail.
The Vancouver Island Golf Trail was not the first golf "trail" to be created. That honour goes to the tremendously successful Robert Trent Jones Golf Trail in Alabama. So what makes the Vancouver Island Golf Trail extra special? When it's all said and done, what's going to make this 10-course, 250-kilometer trail one of the greatest? Well, for starters, it's on Vancouver Island. And that kind of head start is almost unfair.
Voted by Conde Nast as the top island destination in North America for eight years in a row, Vancouver Island is a 550-kilometer long playground of the utmost beauty. Amidst the giant cedar and fir trees, the charming seaside towns, the harbours, the gardens, there is a lifetime's worth of attractions and activities. Whale watching, salmon fishing, hiking, sailing, ocean kayaking, mountaineering, antiquing - and, of course, golfing - have all made this island what it is: simply one of the finest vacation destinations in the world.
Victoria, the capital city of British Columbia, is often called "The City of Gardens." Consider the temperate climate, the hundreds of species of fauna and flora - blooming in every month of the year - and you've got yourself a botanical utopia.
"There are places to enjoy nature, and then there's Vancouver Island," says Jesse Ferguson, a travel specialist working in the area.
The regal Butchart Gardens, located just a short ride from Victoria's famed inner harbour, recently celebrated their 100-year anniversary and have long been regarded as one of the finest gardens in the world. Victoria, a city teeming with old-world charm, truly has much to explore.
But now it's time to dream a little golf - the real reason why a visit to the island has been drifting through your mind. There is no better initiation to this journey than the amazing Westin Bear Mountain Victoria Golf Resort & Spa. A Jack and Steve Nicklaus co-designed golf course, Bear Mountain is an 22-million dollar golfing paradise that tumbles through a rugged alpine setting. Shooting up Mount Finlayson, with glorious views of Victoria at the top, the layout at Bear Mountain is an exhilarating ride that will be seared in your memory for years. "There are 18 signature holes," says Jack. Sounds like a cliché - that is, until you play it. With the unveiling of a new clubhouse two years ago, a Westin Hotel and Sante Spa and a second Nicklaus designed course and Nicklaus Academy set to open summer 2008, this escape has become even better.
After exploring Victoria's inner harbour, a place renowned for its charming restaurants, grand hotels, museums, boutiques, and buskers, you'll want to test your game at a couple of other great courses in the area - Olympic View and Arbutus Ridge.
Speaking of dream-like swings, when he was an amateur, Tiger Woods made a trip to Victoria and played Olympic View. Impressed with the layout, but none too intimidated by it, Tiger blasted a tee shot of ridiculous length on the closing hole, easily knocked his ball onto the par-5 green in two, and made a ho-hum eagle. Besides the waterfalls, rock bluffs, and the spirited route, it's worth experiencing this course just to try and pull off some Tiger-like magic of your own!
From Victoria, the trail heads north, along the scenic Island Highway and over Malahat Mountain. A round at Arbutus Ridge - which is on the way to The Cowichan Warm Land, your next overnight stop on the trail - is a reminder that you are, indeed, on a trail of supreme beauty. By now, you're getting accustomed to the dazzling shorelines that are christened with water-smoothed rock. You've seen moss-coated trees hanging above the foamy sea. You've witnessed a fiery sunset over a harbour swarming with sails. You're beginning to see that you chose the right trail.
About 60 kilometers north of Victoria, tucked in a gorgeous valley, are three more courses worthy of being on this trail. The adventure of what is known as The Warm Land (named because of its award-winning vineyards and fertile farmland) begins with the Cowichan and Duncan Meadows Golf Clubs. Both courses here offer pastoral golf experiences that speak volumes about the easy-paced lifestyle that's ingrained on the island. They are warm and friendly places with outstanding playing conditions and just the right amount of challenge. But both have their own distinct character.
Cowichan Golf and Country Club is an older, classic course with tree-lined holes and smallish greens. Duncan Meadows is a more contemporary layout. It's been singled out by SCOREGolf Magazine as one of the most underrated courses in all of Canada. (Tip: Before playing in The Cowichan Warm Land, head to the Cherry Point Vineyards and grab a shot - or two - of their award-winning Blackberry Port, then watch yourself play the golf of your dreams.) In the fall of 2008, golfers can enjoy a third course in the Cowichan Valley as Greg Norman's The Cliffs over Maple Bay makes it's debut.
After a gorgeous 2-hour drive, you'll come to the Parksville and Qualicum Beach area. Here you can sample a fantastic trio of courses - and explore one of the finest marine environments on the island.
Fairwinds Golf & Country Club, Morningstar Championship Golf Course, and Pheasant Glen Golf Resort, are all ripe with character and provide for excellent experiences. Designed by architect Les Furber, Fairwinds is a tucked-away haven that caters to boating enthusiasts and golf-lovers alike. The 18-hole layout at Fairwinds is easily one of the most scenic courses on the island. Perhaps overlooked because it plays just under 6,200 yards, Fairwinds is the type of golf course that rewards smart shotmaking, not brute strength. (Another tip: After your round at Fairwinds, explore the marina, take a hike along the coast, watch the sea lions, or rent a boat and do some fishing. This is the Pacific paradise of your dreams.)
Morningstar, also a Les Furber design, is the feisty 7,000-yarder that can challenge the best. It's gently rolling, winds through thick forests, and incorporates many water features. Morningstar has hosted numerous tournaments, including the Canadian Tour, and might be the toughest track on the island. Bring a sweet swing!
After a pleasant round at the newly renovated Pheasant Glen course (home to an excellent golf academy if your swing is not too dreamy), the Island Highway will beckon once again. At kilometer 219 (from Victoria) you'll have reached the North Central Island - home to two of the top-ranked courses on the island.
The Crown Isle Resort, which quite possibly features the grandest clubhouse in Canada, can certainly be a highlight on the trail. Here architect Graham Cooke sculpted a superb track that flows through spindly pines and gently rolling terrain. Beautifully shaped with plenty of variety, Crown Isle is, according to SCOREGolf Magazine, one of the top-100 golf courses in the nation. Staying course-side in a luxury villa is definitely the way to go!v
The most northerly course on the trail is a favourite for many. Storey Creek Golf Club is one of Les Furber's finest. Located just south of Campbell River, Storey Creek offers one of those rare experiences where every hole is totally isolated. The course, which plays to a par of 72 and tips out at 6,700 yards, crosses creeks and meanders through a magnificent mixed forest. "People leave here pleasantly surprised at the quality of the course," Head Professional Paul Dashkewytch says. "It's an extraordinary golf experience."
In a way, that's what The Vancouver Island Golf Trail is all about. Great golf - sometimes astonishingly good - on one of the world's most sought-after islands. With all that this Pacific paradise has to offer, the Vancouver Island Golf Trail will surely be considered one of the best golf adventures to be found anywhere. And, regardless of the courses you play, the stops you make, you'll be able to lie down at the end of a memorable day, pull the covers over your eyes, and, very happily, dream a little dream.
February 12, 2008
Andrew Penner is a freelance writer and photographer based in Calgary, Alberta. His work has appeared in newspapers and magazines throughout North America and Europe. You can see more of his work at www.andrewpenner.com.