Copper Creek's a lush, plush rush

By
Chris Traber
,
Contributor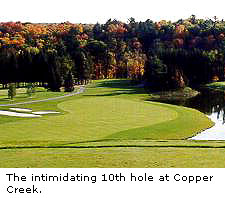 TORONTO - First impressions are lasting. That's particularly apt for golfers, all of whom seem to be innately hard wired to recall every minutia of their playing experience.
Indelible will be the memory of Copper Creek Golf Club, a young,pay-as-you-play course sculpted from the mature timberland of the HumberValley in Vaughan Township northwest of Toronto.
Opened in 2002, Copper Creek belies its age, playing more like a wilyveteran track that's been tweaked and adapted over time to optimizechallenges. The pleasures and pitfalls of this 7,097-yard course aretypicalof its designer, Doug Carrick, a Canadian who is gaining internationaleminence for imagination and inventiveness - two ingredients players ofhiscreations must have in ample supply.
The Copper Creek imprint begins long before you arrive. Getting there previews the heavily forested, pastoral rolling terrain that awaits. Still largely agrarian, the wide open region is accented with the antiquated charms of nearby Maple and Kleinburg, century old villages worthy of a visit before or after golf.
The club is instantly impressive. The anticipated perks of a premiumgolfcourse are well met. The welcome is congenial and the bag dropconvenient.The clubhouse is a 40,000 square foot copper-roofed chateau elegantlyappointed with hospitality and dining amenities, including a 500-seatbanquet room and a 2,100 square foot well stocked and staffed proshop.
Carrick, renowned for lush, plush golf facilities including nearbyAngusGlen, site of the 2002 Canadian Open, and newly opened Eagles Nest,applieshis penchant for utility from the start. Carts for the first tee parkbesidethe well-appointed multi-target practice range.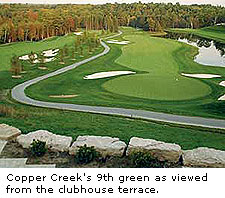 It helps to be loose on the opening hole, a 508-yard par-5 intimidator with water left and yawning bunkers right. About 100 yards from the flag the fairway narrows and a colossal sugar maple stands sentry before a generous green. That's where the fun starts.
The club's Tour-quality greens are fiendish. "First off, they're infantastic condition," says Chris Neale, Copper Creek's director ofoperations. "There's a lot of movement and the breaks are more subtlethanmost. People tend to read too much break but everyone agrees thatthey'refun."
There doesn't seem to be one straight line on any of the puttingsurfaces, a feature that appeals to purists. The 12th green, forexample, 38feet deep and 17 feet wide, is the destination after a docile 395-yardpar4. Arriving in regulation is a relative snap, holing out an entirelydifferent matter. The dance floor slopes back to front. If the pin is infirst front third and you're in the rear, you can easily putt off ontothefairway.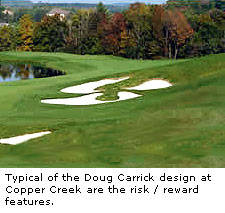 Slippery greens aside, negotiating your way to them is a task fraught with risk and reward. The 510-yard par-5 third entices with a sprawling fairway. Spray away, but unbeknownst to the newcomer is a substantial pond lurking on the left that runs from the fairway, also tilted toward the H2O, to a green protected by a bottle-neck in front, water left and thick forest in back and right.
A dual-plateau course, Copper Creek ascends into the valley at No. 4.Take a breath, enjoy the vista view and prepare for the twists and turnsofnine woodland-lined tests. This section of topography to No. 9 is aconstruction masterpiece, says Neale. "Few people realize that theownersput in more than 1,500 mature trees along these holes at significantcost."
The valley run is serene, but quintessentially Carrick. The holes areallgive and take propositions. No. 6, a Lilliputian 113-yard par 3, seemsinnocent until you reach the multi-tiered green and the neighboringbevelsthat'll escort a ball into deep rough and forest.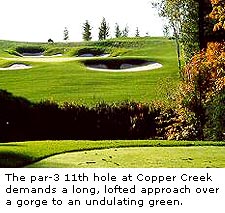 At the turn, you're accosted by No. 10, a magnificent 459-yard par 4. The visual equivalent to Exlax, teeing off is like waiting for an A ride to start at Disneyland. From a severely elevated tee, a thin verdant ribbon of fairway is framed by water on the left and forest on the right. As intimidating as a past due call from BlockBuster, you'll be well served to employ your straightest stick and avoid the penalties for bravado.
No. 11, a 209-yard par 3 over a deep gorge is lined by timber. Toholdthe flexed green your approach shot must land like a dropped cat.
The home hole is the longest at 565 yards. Again, an expansivefairwaybeckons like a siren only to have a plethora of hazards waiting to sullyyour card. Crater traps, mounded landing areas that slope off and agreenwith bulwark bunkers punctuate the day's duel.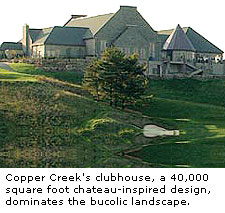 "Most everyone thought Doug (Carrick) had a great piece of property to work with, especially with access to the valley land," says Neale. "Those who play here realize that he did an equally great job on the upper plateau."
Copper Creek, oft awarded and recognized as the province's best newcourse in 2002, gets its due this autumn as host for the OntarioProfessional Golf Association's fall championship, Sept. 29.
The Copper Creek Academy, under the direction of full time CPGAteacherNick Trichilo, offers lessons for both genders and all age groups. Theclubhas also forged a partnership with Virtually Perfect Golf, a traininginnovation that melds high tech interactive video with live instruction.Copper Creek and its sister course, the 27-hole Peninsula Lakes inFonthill,Ontario, are owned by Fieldgate and TACC.
Getting there
About 45 minutes from Toronto,travelnorth on the Don Valley Parkway or Highway 400 to Major Mackenzie thenwestto Highway 27 then north for another five minutes. Along the 407 it's 15minutes from Pearson International Airport, veering north on 27. VisitCopper Creek on the Internet for details and a fascinating hole-by-holehelicopter video at www.coppercreek.ca. Their phone number is905-893-3370.
The Verdict
Conditions: Green and pristine, Copper Creek ismanicured and fast. The greens are diabolical with plenty of very subtlebreaks, troughs and slopes. All's neat and tidy and the views frompractically every tee box are distracting if you allow them to be.
Service: The staff members, from pro shop to restaurant and inbetween, are friendly and knowledgeable. The banquet facilities and menuareranging and cater to all tastes and dietary requirements. Included is akosher option.
Value: Compared to similar, upscalecourses, Copper Creek is well priced. From May 17 to October 8 the weekdayrate is $145. The same is true weekends before noon and $110 after midday.The price includes power cart and range balls.
Design:The Carrick lay out, with a 72.7/131 Rating/Slope, is thoughtful andhighlyplayable regardless of skill level. From a relatively tame 5,271 yardsfromthe red blocks to 7,097 yards from the copper tees, this course is ajoy.Each hole has its own personality as do the accompanying greens. Bringinsect repellent.
November 25, 2004
Chris Traber has divided his career between journalism and corporate communications. Graduating with a journalism degree from Ryerson University in Toronto, he was a feature and sportswriter for The Toronto Sun and United Press International covering major league baseball, basketball and hockey. His freelance work has appeared in ranging international publications including The Globe & Mail, New York Times, Success and Global Reinsurance.