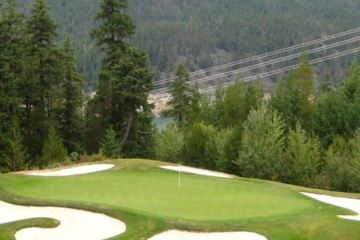 If you're looking for the complete mountain golf experience, Fairmont Chateau Whistler is the place to be. (Wes Gilbertson/TravelGolf)
Fairmont Chateau Whistler resort offers golfers a wild ride in the shadow of ski slopes

By Wes Gilbertson,
Contributor
WHISTLER, British Columbia -- Ask one of the locals about slope rating, and they might tell you the scale runs from beginner -- or green -- to the experts-only double black diamond runs.
Make no mistake, Whistler is a ski and snowboard town first.
In May, though, when the sun finally warms up British Columbia's favorite mountain playground, the staff at the Fairmont Chateau Whistler will be grooming grass at the base of these usually snow-capped peaks.
"In the winter, you have a hard time telling people that this is a world-class golf resort," said Gregg Lown, director of golf at Fairmont Chateau Whistler. "But in the summer ..."
In the summer, you'd be crazy to leave your clubs at home.
Whistler split hosting duties with Vancouver for the 2010 Winter Olympic Games, serving as the site of alpine and cross-country skiing, ski-jumping and the sliding events.

If not for a seemingly endless supply of snow and some of Canada's most appealing ski conditions during the winter months, this mountain village would be better known as a golf getaway.
For a couple of months a year, you can actually experience the best of both. Whistler Blackcomb Ski Resort offers summer skiing in June, July and even August on Horstman Glacier, taking winter sports enthusiasts to nearly 7,500 feet above sea level in search of fresh snow.
Fairmont Chateau Whistler: The Course
Carved out of the wilderness just a wee bit closer to the ground floor, Robert Trent Jones Jr.'s 6,635-yard golf course at Fairmont Chateau Whistler isn't short on adventure, either, although you won't find any of the fluffy white stuff.
Over the first four holes, golfers will climb about 400 feet, culminating in a gotta-see-it-to-believe-it view from the highest point on the property.
You'll be heading the opposite direction by the time you reach the elevated tees at the signature eighth hole, a postcard-worthy par 3 where the putting surface is sandwiched between a water hazard and a wall of granite rock.
The back nine continues to go up and down like the stock market, highlighted by No. 17, a 444-yard dogleg that is slightly downhill off the tee but still all sorts of demanding.
In fact, the first flat spot you'll find might be a table in the clubhouse after your round. Regardless of how many refreshments you stick around for, your foursome likely won't run short of things to talk about.
"It's the elevation changes. It's the wildlife. It's the views. It's the service," Lown said. "It's not that you're not here to golf -- that's why you came -- but those are the extra things that we really focus on. It sounds corny, but we're trying to sell an experience rather than just 4 1/2 hours of golf.
"We really encourage people to bring their camera. Yes, it's a challenging golf course, but it's also just a fun golf course to play and with really great views, as well."
The golf course is located just up the road from Fairmont Chateau Whistler Resort, a charming hotel that sits at the base of Blackcomb Mountain.
Fairmont Chateau Whistler is also home to Canada's first David Leadbetter Golf Academy, offering private instruction and group lessons at its expansive practice facility.
Fairmont Chateau Whistler: The verdict
The Fairmont Chateau Whistler is one of three solid setups within a few minutes of Whistler's village hub, but if you're looking for the complete mountain golf experience, this is the place to be.
Just be warned that while you'll welcome the stunning views, you will also be occasionally cursing an awkward lie.
And even if you've golfed with a gallery, you might feel your knees wobble a little if one of the resident bears -- there are lots of them in this area -- wanders by to watch the action. Remember, you're golfing in their backyard.
Deer, moose, beavers, grouse and eagles are also a fairly common sight at Fairmont Chateau Whistler.
"Bears, for us, are a regular part of life, so we're not really surprised by them," Lown said. "But different people from different parts of the world are absolutely blown away when they get to see a bear. They don't really believe us when we tell them, 'Don't worry about them; they don't want anything to do with you.' They're just here to eat the grass."
August 11, 2011
Wes Gilbertson is a sports reporter and golf feature writer at the Calgary Sun. Living in Calgary, Alta., he trades his golf clubs for a hockey stick in the winter months. When the snow melts, he's living proof that thin mountain air doesn't turn everybody into a long-drive specialist. You can find Wes on Twitter at @GilbertsonGolf.