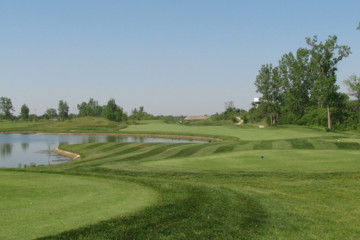 Ontario's Fire Rock Golf Club joins a collection of fine North American courses reclaimed from abandoned industrial and dump sites (GolfPublisher.com)
Ontario's Fire Rock: Good golf courses don't have to come from pristine nature

By
Tim McDonald
,
Contributor
(LONDON, Ontario, Canada) - The remnants of human refuse can make for worthwhile golf course, and not just for the environmentally obvious reason of putting once-rancid public land to good use.
The excellent Kinderlou Forest Golf Club in Valdosta, Ga., was carved from an old borrow pit. Houston's Wildcat Golf Club was built over a former city dump, and the River Golf Club in North Augusta, S.C., sits on the site of an abandoned rail yard.
Add to that collection Fire Rock Golf Club in Komoka, Ontario, on the outskirts of London. This relatively new golf course (now in its second full season) was laid on top of an old sand and gravel mine. Most of the mounds you see along the course were gravel dumps.
"One of the first elements that struck me at Fire Rock was the nature of the disturbed land - it had a really fascinating feel to it for us to explore," architect Tom McBroom says on the course Web site.
It's true - you don't necessarily need pristine nature to build an interesting golf course. McBroom did it here by following the natural lay of the old pit in the Oxbow River Valley and leaving the savannah grasses and trees, mainly spruce and poplars. Small creeks flow through the layout, which shows off some moderate elevation changes, and there are plenty of "environmentally sensitive" areas - don't want to disturb that old gravel.
Nor would you want to disturb the Indian artifacts that lay alongside the 10th fairway. The hole doglegs left around a field where pottery and other items have been uncovered. Since you run out of fairway 200 yards in, most golfers try to carry the field toward a blind landing area on a fairway that slopes sharply down toward the green.
"They never actually found any bones," Head Professional Jake Norris said. "If they had, we probably wouldn't be here. For us to clean that up would have required a lot of time and money, so they decided to go around it. It's been a source of problems for us."
They tried a barber pole with infrared lights, and the strange design could be noted in the yardage books as well. The problem is now eased by the new GPS system installed in the carts. Still, it's hard for a first-timer to know where to hit, and golfers down the fairway are targets for those teeing off.
Then again, what makes problems for builders can be interesting for golfers, if you don't mind a little risk/reward adventure.
Fire Rock Golf Club: The verdict
Fire Rock can be a handful from the back tees at 7,098 yards and a slope rating of 137. It has an open feel to it due to the lack of large trees, but there are hazards galore, and many of the par 4s, such as the closing 454-yarder, are on the long side.
This public course grabs you late, when you may be a little worn down: Three of the final four holes are among Fire Rock's toughest. The 15th is a 423-yard par 4 with a long series of bunkers left and right. At 558 yards No. 16 is the longest hole on the course, and that long par-4 18th has a deserved No. 1 handicap rating.
The conditioning is first-rate, as is the service, although it will get tougher on the maintenance crew as the course becomes more popular, as is likely.
"I'd put this up there," regular Greg Smith said. "As far as public courses in London, I'd say this one and Forest City are the best."
Stay and play
The Lamplighter Inn in London is a Best Western, but it's a step or two above your average Best Western. With a huge atrium with a swimming pool and water slide, plus a network of fish ponds, streams and waterfalls and 80 new balcony (or "walkout") rooms, it definitely doesn't have the feel of a chain hotel off the interstate.
It's one of the more popular places in London, Canada's 10th largest city, and handy for meetings and conferences, with rooms that can handle 600 people seated and 800 for receptions.
Dining out
The Lamplighter has room service and a family-style restaurant, Smittys. Elsewhere, Marienbad is a good choice for continental cuisine, Dragon Court for Chinese. For fine dining, try Blackfriar's, Copperfield's Bistro and Wine Bar, the Phoenician or the Horse and Hound.
Fast facts
The 2002 edition of ScoreGolf magazine's biannual listing of Canada's top 100 courses included 10 Tom McBroom designs, the most for any living architect.
March 15, 2007
Veteran golf writer Tim McDonald keeps one eye on the PGA Tour and another watching golf vacation hotspots and letting travelers in on the best place to vacation.