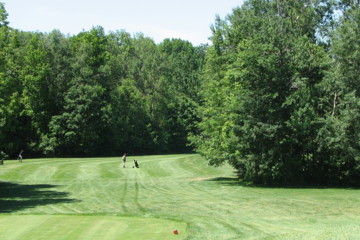 Lifetime lows are common at Ontario's Pine Knot Golf and Country Club. (Tim McDonald/GolfPublisher.com)
Pine Knot Golf in Ontario: Tie the knot but first shoot a career-low round

By
Tim McDonald
,
Contributor
DORCHESTER, Ontario - Pine Knot Golf & Country Club is one of the more popular spots to get married in and around London, Ontario, and you'll pardon the groom if he slips off before his vows to get in a quick 18. Marriage is one of the fundamentals of society, but opportunities for career-low scores don't come every day.
Some golf courses market themselves as challenging, others as scenic. Pine Knot wants you to know you can come out here and have a career day.
"One of the comments we get out here is, 'Hey, I shot my best round,'" Director of Golf Brent Keating said.
In other words, it's easy.
Combine that with low green fees and you'll get the golfers in droves. Keating said Pine Knot hosts 30,000-32,000 rounds a year, a pretty good chunk of the ever-growing London market.
But easy doesn't necessarily mean boring. Pine Knot is a shade over 6,400 yards from the tips with a slope rating of 126, but it's a well-maintained, interestingly designed course with water on eight holes, 50 bunkers and some good risk/reward options.
"It's a difficult-looking course, but very forgiving," Keating said. "It gives the illusion of being difficult."
True enough. The water is usually lateral, with no real forced carries to speak of, although it does guard a green or two. The rough, consisting of bluegrass, rye and fescue, is cut close around fairways and greens, which improves both scores and pace of play. The course is relatively flat, with no more than 20 feet of elevation changes. Many of the fairways are mounded, and willow trees usually mark the edge of water hazards.
Keating described the course as a combination of parkland and links. The park aspect really comes into play starting around the fourth hole, a 440-yard par 4 with a little creek topped with boulders cutting across the fairway in front of the green.
The illusion of difficulty comes at the start, with a pair of par 5s that are among the course's hardest holes. No. 1 is 508 yards with a fairly narrow fairway, No. 2 a 517-yard three-shotter with water right and up near the green.
Architect John Robinson put in four par 5s and five par 3s and installed Kentucky Blue fairways for a bright, clean look. The greens are very receptive and, though slow, are in very good shape.
"They're usually pretty true, but they're never fast," Keating said.
Pine Knot Golf & Country Club: The verdict
Pine Knot is an excellent bargain, with a top green fee of $42 and a (literally) cool "pay the temperature" deal March 15-May 1 and Oct. 2-Christmas: After an $18 base rate you pay a dollar for each Celsius degree up to a $30 maximum (for example, 2 degrees = $20).
With three gardeners on the staff, it's a nicely manicured course, and the fairways and greens are in good shape. Some holes are a little too close together for comfort, but it's a good course for walking.
There are some fun holes, like No. 17, a 259-yard dogleg par 4 with the pin at a nearly 90-degree angle from the fairway - eminently drivable, if you're game to hit over tall trees to an unseen green. No. 18 is a 542-yard par 5 that sweeps left, with trees guarding the left side of the narrow fairway.
London, Ontario hotels
Pine Knot Golf & Country Club is one of the more popular places in London, Canada's 10th largest city, and handy for meetings and conferences, with rooms that can handle 600 people seated and 800 for receptions.
Dining out
The Lamplighter has room service and a family-style restaurant, Smittys. Elsewhere, Marienbad is a good choice for continental cuisine, Dragon Court for Chinese. For fine dining, try Blackfriar's, Copperfield's Bistro and Wine Bar, the Phoenician or the Horse and Hound.
Fast facts
The course also offers "preferred player" packages, platinum accounts and "premier players" packages, further reducing rates.
June 1, 2007
Veteran golf writer Tim McDonald keeps one eye on the PGA Tour and another watching golf vacation hotspots and letting travelers in on the best place to vacation.