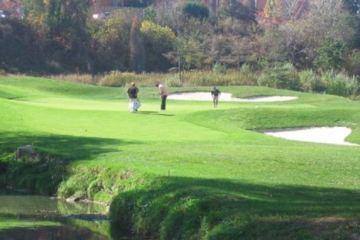 Despite its proximity to Pearson International Airport, Royal Woodbine has a mature, parkland feel. (Courtesy of Royal Woodbine G.C.)
Royal Woodbine Golf Club is Toronto's airport oasis

By Peter Robinson,
Contributor
TORONTO, Canada -- Locating a golf course near a major international airport isn't entirely unheard of, but it's rare for that type of layout to have the appeal of Royal Woodbine Golf Club.
The Michael Hurdzan design manages to achieve the seemingly impossible: It's a well-struck drive from Pearson International Airport in Toronto but located on the type of land that, for the most part, has a mature, parkland feel.
Throw in a few intriguing risk-reward holes, a healthy dose of water and even a few elevation changes, and you would be excused for wondering where the jets buzzing above are going to land.
"I like that it's a bit of an oasis in what otherwise is (just) industrial, urban land in north Toronto," said James Ansley, a respectable duffer who doesn't regularly track his handicap.
"It lacks length, but it forces you to think you're way around."
Royal Woodbine Golf Club: Mental challenge
Ansley's description is bang-on. At 6,400 yards, Royal Woodbine protects itself through a combination of hazards, tree-guarded fairways and narrow landing areas. Its par 3s are both challenging and fun, where landing on the wrong side of the hole really makes you work for par.
The thinking starts at the par-5 third hole. With out-of-bounds all down the left, the view from the hole gives you the feeling as though it's a dogleg left. In fact, it's actually straight-as-a-dye 513 yards from the tips. You can cut the corner slightly to shorten the distance for a chance to drive the green, but a short iron for your third shot is the play because of the severely sloped green that is guarded by two bunkers on the left.
Though officially 277 yards, a drive on the par-4 fifth along a proper line likely knocks about 25 yards off that distance. Still, it's tough to make the ball hit and stick.
The best play is a mid-iron off the tee to give yourself the type of scoring shot for a birdie chance. But you have to watch for the out of bounds that lurks if you go through the fairway -- it's possible to do it, even with an iron, if the wind is at your back.
No. 9 is generally considered the best hole at Royal Woodbine Golf Club. A short par 5 at less than 500 yards, there is little opportunity to overpower the design because the severe dogleg left makes you place your tee ball in a landing area that still leaves 220-plus to a small green protected all around by bunkers and water.
Ten is a lovely downhill par 3, one of three on the back side that all offer varying degrees of difficulty. Not everyone will like two par 3s in a row that waits on 14 and 15, but when you consider that the toughest hole on the course is 16, you should take the easy swings while you can get them.
Finishing with a flash at Royal Woodbine
A pretty two-hole finish ends a good day of golf at Royal Woodbine, with the par-5 18th especially rewarding if you can leave yourself a short wedge in. Water prevents all but the very best golfers from going for it in two (even many better players have regretted that move).
If you haven't heeded the call for caution and went for broke, it's about now that you realize you should play this golf course with an eye for position over distance on virtually every shot.
"When I read 6,400 yards, I thought I could eat it alive," said Chris Knowles, a 7-handicapper. "I was wrong. It's a great test of position golf."
If you're a sports nut, Royal Woodbine is the home course of the NHL Alumni, and many former hockey players play there. It's also not uncommon to see former baseball and basketball players who played in Toronto teeing it up as well. They, like so many other visitors to the city, often take advantage of the opportunity to play golf while heading to or from the airport.
Another highlight to Royal Woodbine is that it's one of relatively few public, non-munis located within the Toronto city limits. You don't face a long drive to the suburbs to get there.
Royal Woodbine Golf Club: The verdict
In a city that is spoiled for choice, it's not a must-play course -- but close.
Fun and affordable, but with Royal Woodbine demanding so many precise iron shots, you need to be on your game to enjoy yourself.
April 20, 2011
Peter Robinson has been afflicted by both his country's main vices: hockey and golf. Unlike most Canadians, he's fortunate to make a living writing about both. Other publications and Web sites he's written about golf for include SCOREGolf and CBC.ca and it's not uncommon to see or hear him on CBC, CTV Newsnet, SCOREGolf.com or Sportsnet Radio talking about the game.