Ontario Golf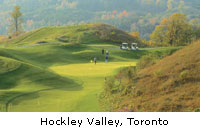 With over 650 courses, Ontario is one of North America's most concentrated golf regions. But the real attraction is what Ontario has to offer after your game. Whether you swing your clubs in Toronto, Muskoka or the Niagara Region, you'll have plenty to see and do.
Ontario Golf Courses | Ontario Course Reviews | Ontario Golf e book

Spend some time in Toronto and experience the world's most multicultural city. Visit Toronto's many neighborhoods, from Chinatown to Little Italy, and choose from over 100 types of cuisine. After dinner, why not take in some theater? Or swing by a comedy club? It's entirely up to you.
Destination Toronto >> | Toronto Golf Courses

In the Muskoka region, north of Toronto, once you've had your fill of water hazards and greens, you can relax by a lake or explore some other green spaces. Muskoka is home to some of the most beautiful scenery Canada has to offer, and a variety of resort amenities, from luxurious havens to rustic cottages.
Destination Muskoka >> | Muskoka Golf Courses

Niagara is the region where you can trade in one score card for another. After golf, you can tour a winery and compare many of the region's world-renowned wines. While you're here, you can marvel at 600,000 gallons of water that rush over Niagara Falls every second. And don't forget to try your luck at Casino Niagara. Only a short drive from Toronto.
Destination Niagara >> | Niagara Golf Courses
---
Discover our Nature and endless Playground
Get ready to experience all that makes this country cool. Natural wonders. International excitement. Outdoor adventure. Tasteful delicacies. Energetic cities. Rich history. World class golf. And fun-loving people. From coast to coast to coast, there's an infinite playground just waiting to be discovered.
Getting here is easy, whether you fly or drive. With many golf destinations within 100 miles of the border, your Canadian golf vacation really is next door. Canada welcomes millions of visitors from the US each year, and we'll do our best to make you feel right at home.
Travel by Air - Direct flights whisk you from most major air terminals to major Canadian cities, including Victoria, Vancouver, Calgary, Edmonton, Regina,Winnipeg, Thunder Bay, London, Toronto, Ottawa, Montréal, Québec City, Saint John, Halifax and Yarmouth.
Travel by Car - It's convenient to drive to Canadian destinations with many north-south American interstates and major highways leading directly to the border. All US state driver's licenses are valid in Canada, and local traffic laws (including mandatory use of seat belts) and road signs are very similar. Remember to carry proof of ownership of your vehicle, as well as proof of insurance. Canada uses the metric system, with distances in kilometers and fuel in liters. A posted speed limit of 50 kmh, for example, is equivalent to 30 mph; 80 kmh equals 50 mph.
General Visitor Information - Although a passport is the ideal identification, you do not require a passport or visa to enter Canada. Just make sure you carry identification to establish your citizenship (and that of each family member) such as a birth certificate and at least one ID card with photo. There are restrictions on items you can bring into Canada, including a limit on the amount of alcohol and tobacco, and strict laws that restrict or prohibit the possession of firearms.
Money Matters - Your US dollar goes a long way in Canada. At recent exchange rates each $1.00 US is worth about $1.55 Canadian. American residents who spend more than 48 hours in Canada are allowed to take goods valued up to US $400 back home once every 30 days.Major credit cards are widely accepted in Canada. Automatic banking machines on the Interac system are also widely available. Some Canadian sales taxes are refundable for goods taken out of Canada. Information on tax rebates is available at tourism information centers.