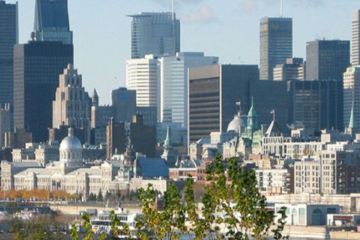 Montreal is one of the most vibrant cities in North America. (Courtesy photo)
Destination: Quebec
By Staff
Quebec is rich in French history -- and golf history, too.
Quebec is the birthplace of golf in North America (the Royal Montreal Golf Club was founded 1n 1873). While Royal Montreal (which hosted the 2007 Presidents Cup) is a private golf course, there are many outstanding public courses throughout Quebec, especially in Montreal, the Mont-Tremblant region (75 minutes from Montreal), Quebec City (two and a half hours from Montreal) and Charlevoix (1-2 hours from Quebec City).
But it's not just golf that makes Quebec unique. Quebec is the only province in Canada that has French as a first language. Street and shop signs are in French first, then English. And Quebec City, the capital of Quebec, is also North America's only fortified city, and the three miles of fortification walls that separate Old Quebec from the newer part of town is a site you have to see. Guided tours are available.
There are many more must-see places in Quebec City, including the Notre-Dame de Quebec Basilica Cathedral (part of the oldest parish in North America), the Canadian Museum of Civilization (which captures all the history of Quebec) and the Chateau Frontenac Hotel (even if you don't stay there).
Montreal is known as the City of Festivals, and there seems to be one almost every day. Known for its nightlife, Montreal boast more than 5,000 restaurants, bars and cafes. The Mont-Tremblant region is more relaxing -- with great golf. Many of the courses have several elevated tees to capture the beauty of the area. Le Diable, Le Geant and Gray Rocks are among the top plays.
In Charlevoix, the 27-hole Manior Richelieu Golf Club is must-play course. Many of Quebec City's courses, which are within a 30-minute drive of downtown, offer rolling fairways and mature trees, keeping up with the rich tradition of Quebec.