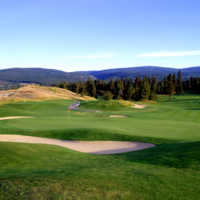 Gallagher's Canyon Golf and Country Club
4320 Gallagher's Drive West
Kelowna, British Columbia
V1W 3Z9
Phone: 1 (800) 446-5322, (250) 861-4240
Fax: (250) 861-1852
Website: gallagherscanyon.ca/golf
27 holes of golf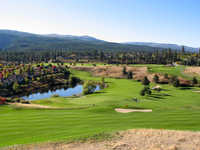 Gallagher's Canyon Golf & Country Club offers an 18-hole championship course as well as an impressive nine holes called the Pinnacle Course. The course is built to the same exacting standards as its longer counterpart, the Canyon Course. Both play across a gently undulating landscape that is covered in woodlands. The clever nine-hole design has a variety of different tee placements, making it accessible for golfers of any skill level. Beginners can get the same experience as the Canyon without the daunting length while more seasoned players will appreciate the short game practice. In addition to the two golf courses, Gallagher's Canyon boasts extensive practice facilities including a double-ended driving range with target greens, putting and chipping greens, practice greenside bunkers and an 18-hole putting course.
Pinnacle 9 course details
Holes: 9
Designed by: Les Furber Design

Style: Executive
Year opened: 1994
Public/Private: Semi-Private
Golf Season: April 1 - October 30
Guest Policy: Welcomed
Tee times welcomed: Yes
Fairways:
Greens:
Facilities
Pro in house: Yes
Pro shop: Yes
Driving range: Yes
Putting green: Yes
Chipping area: Yes
Practice bunker: Yes
Indoor practice:
Simulator:
Services
Rental clubs: Yes
Rental carts: Yes
Pull carts: Yes
GPS:
Lessons available: Yes
Caddies: No
Prices
Week days: $26 - $46
Weekends: $26 - $46
Policies
Metal spikes allowed: No
Dress code: No denim, collared shirt and bermuda shorts required
Credit cards accepted: Yes
Walking allowed: Yes
Stats
| Tee | Par | Yardage | Slope | Rating |
| --- | --- | --- | --- | --- |
| White | 32 | 1862 | 96 | 29.9 |
| White (W) | 32 | 1862 | 107 | 31.1 |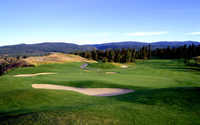 Deemed a classic golf resort, Gallagher's Canyon is only 15 minutes from the renowned vacation playground, Kelowna. Majestic Ponderosa Pines characterize this picturesque course, while the mountainous terrain and broad vistas provide the incredible landscape for an impressive test of golf. Features of this first-class course are the 18 hole Championship Canyon Course, as well as the 9-hole Pinnacle Course. Designed by Bill Robinson & Les Furber this 6,792 yard - par 72 course threads through forested groves and flows out along the famed Gallagher's Canyon.
Gallagher's Canyon course details
Holes: 18
Designed by: Bill Robinson, Les Furber Design

Year opened: 1980
Public/Private: Semi-Private
Golf Season: April 1 - October 1
Guest Policy: Welcomed
Tee times welcomed: Yes
Fairways:
Greens:
Facilities
Pro in house: Yes
Pro shop: Yes
Driving range: Yes
Putting green: Yes
Chipping area: Yes
Practice bunker: Yes
Indoor practice:
Simulator:
Services
Rental clubs: Yes
Rental carts: Yes
Pull carts: Yes
GPS:
Lessons available: Yes
Caddies: No
Prices
Week days: $45 - $119
Weekends: $45 - $119
Policies
Metal spikes allowed: No
Dress code: No denim, collared shirt and bermuda shorts required
Credit cards accepted: Yes
Walking allowed: Yes
Stats
| Tee | Par | Yardage | Slope | Rating |
| --- | --- | --- | --- | --- |
| Ponderosa | 72 | 5574 | 116 | 66.6 |
| Tour | 72 | 6802 | 134 | 72.3 |
| Canyon | 72 | 6434 | 129 | 70.3 |
| Mountain | 72 | 6084 | 127 | 68.4 |
| Canyon (W) | 73 | 6434 | 137 | 77.5 |
| Mountain (W) | 73 | 6084 | 135 | 75.5 |
| Canyon/Mountain Combo | 72 | 6192 | 128 | 69.3 |
| Canyon/Mountain Combo (W) | 73 | 6192 | 137 | 76.1 |
| Ponderosa (W) | 73 | 5574 | 129 | 72.6 |