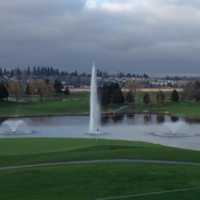 Northview Golf & Country Club
6857-168th Street
Surrey, British Columbia
V3S 8E7
Phone: 1 (888) 574-2211, (604) 576-4653
Fax: (604) 574-1242
Website: www.northviewgolf.com
36 holes of golf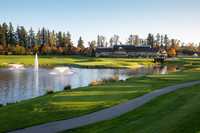 Although Arnold Palmer designed both of the 18-hole championship courses at Northview Golf & Country Club, both are completely unique from one another. The Ridge Course is more heavily wooded than the Florida-style Canal Course and it also has a more undulating landscape. Both golf courses share a beautiful landscape and stunning mountain views. Golfers can often see one or both of the Bald Eagles that call the courses home. While water comes into play more often on the Canal Course there are still streams that meander through the lake-strewn Ridge Course. The signature hole is the par-5 finishing hole. This lengthy hole, which measures 561 yards, has a double fairway that offers either a short dangerous route with an opportunity to reach the semi-island green in two shots or a much longer but safer three-shot option.

Ridge course details
Holes: 18
Designed by: Arnold Palmer

Year opened: 1994
Public/Private: Public
Golf Season: Year round
Guest Policy: Welcomed
Tee times welcomed: Yes
Fairways:
Greens:
Facilities
Pro in house: Yes
Pro shop: Yes
Driving range: Yes
Putting green: Yes
Chipping area: Yes
Practice bunker:
Indoor practice:
Simulator:
Services
Rental clubs: Yes
Rental carts: Yes
Pull carts: Yes
GPS:
Lessons available: Yes
Caddies: No
Prices
Week days: $45 - $90
Weekends: $45 - $95
Policies
Metal spikes allowed: No
Dress code: No Jeans or Denim of any kind, shirts must have a collar, no short shorts, cut-offs, swimwear or jogging shorts, no tank tops, sleeveless shirts, sweat suits or torn clothing.
Credit cards accepted:
Walking allowed: Yes
Stats
| Tee | Par | Yardage | Slope | Rating |
| --- | --- | --- | --- | --- |
| Palmer | 72 | 6900 | 135 | 72.6 |
| Championship | 72 | 6475 | 132 | 70.5 |
| Regular | 72 | 6001 | 118 | 68.5 |
| Forward | 72 | 5231 | 107 | 65.1 |
| Green | 72 | 5661 | 0 | 0 |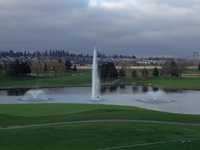 Northview Golf & Country Club boasts two 18-hole championship courses designed by Arnold Palmer. The club hosts the Air Canada Championship, formerly the Greater Vancouver Open, every year. The courses showcase the wide range of Palmer's design capabilities by being completely different from one another. The Florida-style Canal Course features more water than the heavily wooded Ridge Course. Being more open, it is also more subject to the prevailing winds. The layout featuring wide fairways and undulating greens is reminiscent of traditional links courses. Both the Ridge and Canal share the same stunning mountain views. There are also two Bald Eagles that call the golf courses home. The Canal's signature hole is the par-3 penultimate hole. This tricky hole has a shallow green that is not only surrounded by water on three sides there are also bunkers to watch out for.

Canal course details
Holes: 18
Designed by: Arnold Palmer

Style: Links
Year opened: 1995
Public/Private: Public
Golf Season: Year round
Guest Policy: Welcomed
Tee times welcomed: Yes
Fairways:
Greens:
Facilities
Pro in house: Yes
Pro shop: Yes
Driving range: Yes
Putting green: Yes
Chipping area: Yes
Practice bunker:
Indoor practice:
Simulator:
Services
Rental clubs: Yes
Rental carts: Yes
Pull carts: Yes
GPS:
Lessons available: Yes
Caddies: No
Prices
Week days: $35 - $80
Weekends: $35 - $85
Policies
Metal spikes allowed: No
Dress code: No Jeans or Denim of any kind, shirts must have a collar, no short shorts, cut-offs, swimwear or jogging shorts, no tank tops, sleeveless shirts, sweat suits or torn clothing.
Credit cards accepted:
Walking allowed: Yes
Stats
| Tee | Par | Yardage | Slope | Rating |
| --- | --- | --- | --- | --- |
| Palmer | 72 | 7101 | 130 | 73.2 |
| Championship | 72 | 6646 | 125 | 70.8 |
| Regular | 72 | 6085 | 115 | 68.4 |
| Forward | 72 | 5314 | 103 | 64.6 |
| Green | 72 | 5657 | 123 | 71.9 |