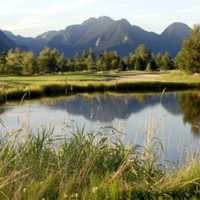 Swan-e-set Bay Resort Country Club
16651 Rannie Road
Pitt Meadows, British Columbia
V3Y 1Z1
Phone: (604) 465-3888
Fax: (604) 465-3727
Website: wcgg.ca
36 holes of golf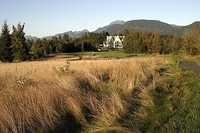 Situated in the Pitt River Valley, the two 18-hole courses at Swan-e-set Bay Resort & Country Club were sculpted from a beautiful landscape of meandering streams, sparkling blue lakes, and towering mountains. Of the total 36 holes, water hazards come into play on 25. The Resort Course has a straightforward design with no hidden hazards. The layout features wide, player-friendly fairways and spacious greens that will forgive slightly errant shots. The golf course is mostly flat, making it pleasantly walkable. While it is gentle enough for beginners a smattering of strategically placed bunkers and water hazards provide just enough difficulty. The golf course shares the terrain with an abundance of wildlife including deer and cranes. There is also no better location to enjoy views of the mountains of Vancouver's Lower Mainland.
Resort course details
Holes: 18
Designed by: Lee Trevino

Public/Private: Resort
Golf Season: Year round
Guest Policy: Welcomed
Tee times welcomed: Yes
Fairways:
Greens:
Facilities
Pro in house: Yes
Pro shop: Yes
Driving range: Yes
Putting green: Yes
Chipping area: Yes
Practice bunker:
Indoor practice:
Simulator:
Services
Rental clubs: Yes
Rental carts: Yes
Pull carts: Yes
GPS:
Lessons available: Yes
Caddies: No
Prices
Week days: $19 - $49
Weekends: $19 - $69
Policies
Metal spikes allowed: No
Dress code: Proper golf attire. No denim, logo t-shirts or athletic pants/shorts.
Credit cards accepted:
Walking allowed: Yes
Stats
| Tee | Par | Yardage | Slope | Rating |
| --- | --- | --- | --- | --- |
| White | 72 | 6343 | 123 | 70 |
| Red (W) | 72 | 5624 | 120 | 71.9 |
| Blue | 72 | 7000 | 131 | 73 |
| White (W) | 72 | 6343 | 132 | 76.2 |
| Red | 72 | 5624 | 112 | 66.5 |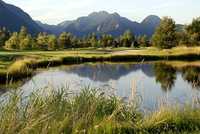 Swan-e-set Bay Resort & Country Club boasts two 18-hole championship courses, the Resort and the Links, that were both carved from the surrounding coastal mountains of Vancouver's Lower Mainland. Water is a prominent feature throughout the landscape, coming into play a total of 25 times throughout the 36 holes. The Links Course has an honest design with no hidden hazards. The wide fairways and large greens are forgiving, making the course gentle enough for beginners. There are still plenty of challenges provided by the abundance of water and several strategically placed bunkers though. The golf course is pleasant to walk being mostly flat with only a few mild undulations. The unique location of Swan-e-set Bay Resort & Country Club provides the best views of the local mountains.
Links course details
Holes: 18
Designed by: Lee Trevino

Style: Links
Public/Private: Resort
Golf Season: Year round
Guest Policy: Welcomed
Tee times welcomed: Yes
Fairways:
Greens:
Facilities
Pro in house: Yes
Pro shop: Yes
Driving range: Yes
Putting green: Yes
Chipping area:
Practice bunker:
Indoor practice:
Simulator:
Services
Rental clubs: Yes
Rental carts: Yes
Pull carts: Yes
GPS:
Lessons available: Yes
Caddies: No
Prices
Week days: $25 - $55
Weekends: $25 - $75
Policies
Metal spikes allowed: No
Dress code: Proper golf attire. No denim, logo t-shirts or athletic pants/shorts.
Credit cards accepted:
Walking allowed: Yes
Stats
| Tee | Par | Yardage | Slope | Rating |
| --- | --- | --- | --- | --- |
| Blue | 72 | 7126 | 132 | 73.6 |
| White | 72 | 6302 | 124 | 69.9 |
| Red | 72 | 5876 | 117 | 67.8 |
| Yellow (W) | 72 | 5289 | 117 | 69.4 |
| White (W) | 72 | 6302 | 130 | 75.7 |
| Red (W) | 72 | 5876 | 126 | 72.9 |