Canadian golf collectibles rarer than an ace but attainable

By
Chris Traber
,
Contributor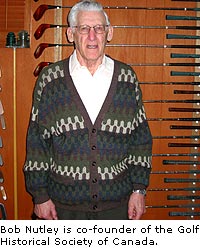 TORONTO - Golf is a collector's dream.
The game is accessory and utensil intensive. Much of the amassing can be done for free: scorecards; bag tags; pencils, branded tees; divot toolsandthe like. There's no end to golf-related keepsakes, gadgets, giftwareandthe permutations therein. Of course, there's all that golf memorabiliaavailable in art and golf shops featuring framed autographed photosassumedto be authentic. In the endeavor of golf collecting, much like the gameitself, there's a diverse stratum. There are those with hundreds ofplasticball markers from courses played or visited to collections with serioushistorical significance. Within the latter there's an even rarer subculture: the collector of Canadian golf artifacts.
Golf antiquarians and savvy hobbyists concur: within the vast realm of golf, Canadian collectibles are few and far between. It's a matter of numbers, geography and commerce. In the brush with greatness category there are five contending Canadians on the PGA Tour. Only two, Mike Weir, and more recently, Stephen Ames, have cachet, autograph-wise. As well, while the game was born in Scotland and migrated originally to Canada, it was popularized in the United States, a union with 10 times the population of its northern neighbor. And, there just wasn't a major manufacturer of golf gear in Canada as compared to the United Kingdom and the U.S.
That's not to say Canada doesn'thave an illustrious golf heritage. On the contrary. The first recordedgameof golf in North America took place at Priest's Farm, now part ofMontreal,in 1826. The oldest club in North America is Royal Montreal, founded in1873. Canada's had great and colorful players including, Olympian GeorgeS.Lyon, dominant brothers Albert and Charles Murray, two-time CanadianOpenwinner Karl Keffer, and great ball strikers like George Knudson and MoeNorman. Souvenirs related to the aforementioned have good internationalmarket value.
"Clubs are the most collectable and golf balls areaclose second," says Karen Hewson, curator of the Canadian Golf Hall ofFameand Museum located at the Glen Abbey Golf Club, site of almost two dozenCanadian Open championships, in Oakville, Ontario. "The issue is thattherewere few Canadian club manufacturers in the 1800s and early 1900s. Clubmakers would import the heads and shafts and assemble them here."
Similarly, balls were imported. "The most expensive and rare ball isthefeathery," she says. "An experienced craftsman could make about four aday.Just as valuable are the gutta-percha balls that replaced the featheriein1848. If they're in an original box or packaging, the price goes up."
One sports antiquities dealer in Melrose, Mass., advertises a dozenU.S.Royal balls, circa 1932, in the original cellophane wrappers for $1,000(allprices quoted are in US$ unless otherwise noted). The same purveyor ishawking an "uncommon mesh pattern 'Park' Gutty with one tiny cut andmissingpaint" for $4,500.
Pure Canadiana notwithstanding, earnestcollectors still covet certain clubs based on provenance such as theitem'sage, history, original owner(s), relation to Canadian golf, rarity andnotoriety.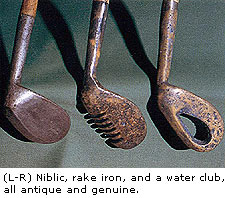 "The biggest collectable market is the hickory shafted club," says Bob Nutley, the dean of Canadian club collectors and a co-founder of the Golf Historical Society of Canada. "Of particular interest are clubs with the name of a Canadian professional.
"Any clubswiththe name 'Murray' on them would be rare," he says, referring to Canuckbrothers Albert and Charles who each won the Canadian Open twice between1906 and 1913.
With one of the nation's most prolific collection of golf clubs and books, Nutley's knowledge of ancient golf armaments is unparalleled. He advises that hickory sticks are gauged on brand name, cleekmark, uniqueness and rarity. A Cochran Mammoth Niblick, a high lofted wedge from 1910, fetches $1,000 while a longnosed Provan brand fairway club built between 1875 and 1880 is appraised at $600.
The mostsoughtafter clubs were made by Robert Forgan, explains Nutley. "He had a shopnextto St. Andrews and was the club maker to the Prince of Wales who becameKingEdward VII in 1901," he says. "Forgan is probably the most famous clubmakerof the era."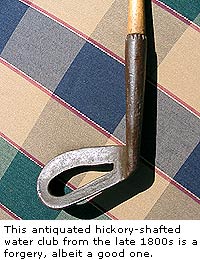 The most expensive collector clubs are those made by the McEwan family of Scotland in the late 1700s.
Topping hiswishlist would be any hickory-shafted club with the J.H. Oke imprint. Okewonthe first Canadian Open in 1904. "It's the Open's centennial which wouldmake quite a find," he says.
Post World War Two clubs used inCanadian events or by Canadians are also desirable, notes Nutley, who,at 79continues to play and build custom clubs "to pay for the collection."
Classic persimmon clubs from the 1950s and 1960s are works of art, hecontends. "The woods, finished so beautifully with nice inserts areclassics," he says. "McGregor was a big name and Jack Nicklaus playedthemhere in Canada."
Fancy faced woods with ornate inserts such as a1934 ivory inlay McGregor Chieftain with pyratone shaft sheathing cannet$800. The first steel shafted Kro-Flites by Spalding from 1929 are worth$115 each. A single Walter Hagen concave wedge from the same era canearnbetween $500-$600. "It was an illegal club," says Nutley. "Beingnotoriousmakes it more expensive."
Regrettably, collectable clubs, likecommodities, fluctuate. "The classics has been devalued considerably,"saysNutley. "A set of Tommy Armor 693 Mystics used by the top players wereworth$800 in the 1970s. Today you'd be lucky to get $150."
Also ofinterest to collectors are putters of which Nutley has more than 200. AWilson 8802 from the 1960s and once the favored flat stick of ArnoldPalmer,is valued between $400-$500. A George Low brand Wizard 600 recently soldfor$3,000 in Japan while a Low built Sportsman putter exchanged hands for$7,500.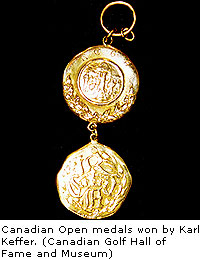 "The late 1950s to 1970 was a classic era for putters,"saysNutley. "They're not too easy to find."
Nutley, whose Society offers advice and appraisals by appointment and organizes trade fairs, says the golf collectible market is expansive. Areas of interest include art, architecture, old cigarette cards, ceramics, magazines, post cards, programs, stamps, statuary and trophies. Purists, if not traditionalists, the Society "is not into autographs."
Another of his passions is golf literature. The world's most expensive golf book, according to Nutley, is "The Goff" by Tomas Mathison. Dated 1743 it's reputed to be the first book on the subject. A first edition is worth between $30,000 to $40,000, he says. "A second edition is in the $22,000 to $27,000 range. It's so rare you hardly see it offered."
The scarcest Canadian golf collectibles,according to Hewson, are so far unattainable. They're related toCanadianGeorge S. Lyon, who, at age 46, defeated 87 other players to win theOlympicgold medal at the 1904 summer games in St. Louis, Mo. Legend has it thattheBritish and American participants were so miffed by the upstart thattheyrefused to participate in future games. As a result, 1904 was the lastyearthat golf was to be part of the Summer Olympic Games.
"Lyons' Olympic gold medal is long missing," she says. "We'd love to have that and the original Aberdeen Cup, the first Canadian Amateur Championship trophy donated in 1895 and permanently given to Lyon after he won it three consecutive times. There are probably only three people in the world who could buy these items privately. For us it would be of great historical significance."
Both Nutley and Hewson recommend that collectorsassociate only with reputable dealers who can prove authenticity.
Asfor golfer's autographs, Mike Weir 's name penned on a framed photo isvalued in the $300 range. Weir's signature on a 2003 Masters flag fromAugusta, along with other past champions Tiger Woods, Palmer, Nicklausandother players is selling for $8,999 on a popular Web site. By the way,it'sdelivered unframed. Welcome to the market.
The Golf Historical Society of Canada in Toronto is at (416) 493-3049 and on the Internet at www3.sympatico.ca/bill.macdonald/. The Canadian Golf Hall of Fame and Museum's number is (905) 849-9700, extension 213, and information is available at cghf.org.
March 22, 2005
Chris Traber has divided his career between journalism and corporate communications. Graduating with a journalism degree from Ryerson University in Toronto, he was a feature and sportswriter for The Toronto Sun and United Press International covering major league baseball, basketball and hockey. His freelance work has appeared in ranging international publications including The Globe & Mail, New York Times, Success and Global Reinsurance.