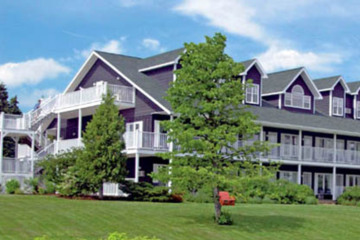 The Inverary Resort sits on 11 acres hard by the huge Bras d'Or Lakes, with a waterfront boardwalk, and rooms as well as cottages. (Courtesy of inveraryresort.com)
Inverary Resort in Baddeck, Nova Scotia: Golf, swim, kayak, get a massage or just watch the Puffins

By
Tim McDonald
,
Contributor
The Inverary Resort in Baddeck is a laid-back Nova Scotia vacation spot where you can play Cape Breton's golf courses, including Bell Bay, or just relax and enjoy the Cape's stunning scenery.
BADDECK, Nova Scotia - The Inverary Resort (www.inveraryresort.com) was originally built in 1850 and still retains that old-time feel even if it now has all the modern amenities, including a spa, indoor pool, fitness center, meeting facilities and wireless Internet.
The best thing about the inn is its location on Cape Breton, a ruggedly beautiful island just off the tip of the Nova Scotia mainland. The inn sits on 11 acres hard by the huge Bras d'Or Lakes, with a waterfront boardwalk, and rooms as well as cottages. It has the Thistledown Pub and two excellent restaurants.
It's in Baddeck, the former home of Alexander Graham Bell, whose estate, where his grave site is, can be seen from the inn. It's a good base for playing Cape Breton golf courses or visiting the town of Baddeck. If nature is your deal, there's plenty of that around on this island, which is almost surreal in its beauty.
First of all, Baddeck is the "shire town" of Victoria County, though hobbits are rarely seen. The city is in the heart of Cape Breton and the unofficial beginning and end of the Cabot Trail, a 300-kilometer driving loop around the northern tip of Cape Breton Island; this is one of the most scenic drives anywhere.
Baddeck was only revealed to the outside world after the 1956 opening of the Alexander Graham Bell National Historic Site and the debut of the Trans-Canada Highway a little north of town in the 1960s.
But Baddeck has done a good job of retaining much of its character, despite getting nearly as much tourist traffic as Halifax.
The Inverary Resort is located fairly close to all of Cape Breton's "Fab Four" golf courses: Bell Bay, Highlands Links, Le Portage and Dundee. Bell Bay, in fact, is only a few minutes away.
Bell Bay fits in well with its spectacular surroundings. It has good elevation changes, and the fairways have good movement, with some tilted at fairly sharp angles.
A must play is Highlands Links, which involves an adventurous drive, but it's worth it to reach this stunningly beautiful course on the rugged northern coast.
The views are breathtaking, over ocean waters - where whales can be seen in the Gulf of St. Lawrence - and up to the ringing mountains and over inlets, lakes, ponds and clear, rocky streams holding trout and Atlantic salmon.
If all this sounds tiring, you always have the option of just hanging around the resort, which has rooms, cottages and two-bedroom suites on the waterfront, with rates ranging from $99 to $390 per night, depending on the season and type of accommodation.
The resort has two restaurants, Flora's Dining Room for breakfast and the Lakeside Restaurant, with seafood, pasta and lamb and a good pick of wines, beers and ales.
It also has an extensive spa, with massage therapists and estheticians in six treatment rooms. Some of the spa offerings include hot stone massages, facials, manicures, herbal body wraps and, my personal favorite, lip buffs.
There's an indoor pool as well as pretty much any physical activity you can think of on the shores of the big lake: sailing, boat tours, tennis, volleyball, badminton, a children's playground, salt water fishing, paddle boats, power boats, kayaks and canoes.
There is also a fitness center, barbecues and bonfires.
Birders will love the action: the island and its surrounding waters are home to a large concentration of bald eagles, and you'll also see hawks, owls, woodpeckers and sandpipers. One option is to take a Bird Island boat tour to see the nesting grounds of the Atlantic Puffin, where you'll likely spot gray seals on the way.
The inn caters to business people, with its MacAulay Conference Centre, a free-standing facility on the water that holds 12 to 350 people, with six breakout rooms.
The inn is open year-round, but from December to April it is open only to group business.
Getting to Nova Scotia
"The Cat" (catferry.com) is a sleek, high-speed catamaran ferry that's more like a cruise ship. If you want to get to the picturesque Nova Scotia golf courses from the U.S. mainland, it's a great alternative to the long drive.
The seats are wide and plush, with plenty of legroom, and quite a few of the seating arrangements have tables, perfect for meals or playing cards.
The Discovery Channel called it one of the world's top-10 super ships. The Cat has movie screens, restaurants and even a casino - slot machines only. It holds cars, motorcycles, bicycles, RVs, or you can just walk aboard.
The huge windows make sightseeing easy on the six-hour crossing between Portland, Maine and Yarmouth, Nova Scotia.
The ferry is used by many American tourists on the way to the Celtic and Acadian cultures of the Canadian Maritime provinces.
The ship travels up to 40 knots, and rates range from $64 to $99 for passengers, with the shorter Bar Harbor to Yarmouth route being cheaper. Vehicle rates are $115 to $164 for cars, with varying rates for trucks and smaller vehicles. There is a port and security fee of $10 each way.
January 16, 2009
Veteran golf writer Tim McDonald keeps one eye on the PGA Tour and another watching golf vacation hotspots and letting travelers in on the best place to vacation.